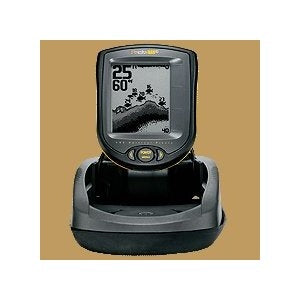 A Portable And Easy To Use System To Locate Your Fish - Humminbird Piranha MAX 10
The Humminbird Piranha 10 offers some of the features of your favorite fish finding tools in a portable, easy to use system. Here are some of its features that we think will prove to you that all this is a system that is simply a must have.

The display starts with a high definition 106V by 132 H. This is a nice sized screen that will give you a good picture of what's below the waters!

It features a true four level grayscale. This provides you with a very clear, crisp look of the bottom as well as any structures and fish lurking below as well. This is essential so that you can find and lure them in!

You can use One-Touch control to access full sets of advanced features. You get access to all of the features you want so badly!

The Humminbird Piranha also features a water temperature gauge is included in the transducer. This will help you know if the water is warm enough for your fish or if you need move.

To make your trip easy, you'll find that the portable offers a rugged, portable case which will protect your fishfinder in case it gets in harms way. It features a no skid bottom to keep it in place when you need it to be. This allows for you to be comfortable leaving it where you can view it while you use your hands for your fish lures. It also has a suction cup transducer that will punt to aluminum, wood, fiberglass so that you have a secure way to hold your fishfinder is place.

There are many reasons to purchase the Humminbird Piranha 10. It gives you a portable, easy to use system to locating your fish. It allows you to find, lure in and secure your fish. Imagine coming home after a hot day on the waters and still having time to relax in front of the television because it only took you half as long to find your fish!



---